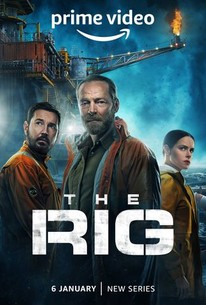 Siting at home sick as a dog and too unwell to write has it's perks. I finally gave myself time and permission to catch up with movies I wanted to watch but put on hold because of more important things.
Yesterday we binged on The Rig, British or I should say Scottish TV series about some accident on the offshore drilling platform. Premiss sounds boring, I know, but we watched the trailer and I said fuck it, I don't have two brain cells oxygenated enough to understand complicated movies, so let's watch this one.
That was such a good choice.
The series is anything but boring. I loved the actors (and hated some that we meant to hate), the performance and effect were spectacular. Tension was built up well and spiced up with human interactions in crisis mode to perfection. I won't tell you what this series is about beyond what you can read in the premiss. It is about an accident on an off-shore platform, but things are not as normal as you would like them to be.
One thing I feel I must mention. If you know me, you know I'm deeply against race, gender or sexuality being used as political or social statement and term diversity and inclusion trigger me immensely mainly due to how badly it is done and mostly equals the sentence 'lets create modern day Los Angeles population' everywhere despite social, historical or geographical context or even common sense or original lore. e.g. The Witcher, Lord of Rings and so many others.
In this series it is done so well, you have every skin tone, every sexuality and religion or political outlook represented there, but in fact you barely notice this because all you see is a person and their role in the plot. I can't applaud more to such choice and I was deeply rooting for lesbian female paramedic while white Scottish definitely middle age captain was such masculine eye-candy … and this beard … ooooh my!
Any way if you haven't watched it yet, that is my recommendation and hopefully it will make your Sunday more enjoyable.